If you're looking for bedroom curtain ideas and feel absolutely overwhelmed by the endless possibilities that come with trailing through Pinterest, then have a look at these easy ideas. Whether you're looking to give your bedroom a full on makeover or just some ideas to spruce up your current design. These simple ideas will get the creative bedroom design ideas flowing. Curtains can make a statement and add drama or just be a subtle tie in with the rest of the room. Whatever your style there will always be something to suit your bedroom style.
---
---
Simple Striped Shade
A striped shade is a great idea to bring a pop of colour to any bedroom. Fitted into your window, they look clean and effortless. Bold or subtle, they're sure to catch the eye and bring that modern feel to your bedroom.
Clean Casual Shade

Give your bedroom that effortlessly chic look by mixing styles, tones and textures. Add a simple casual shade with contrasting trim to your window for an easy chic vibe.
Bold Bright and Blue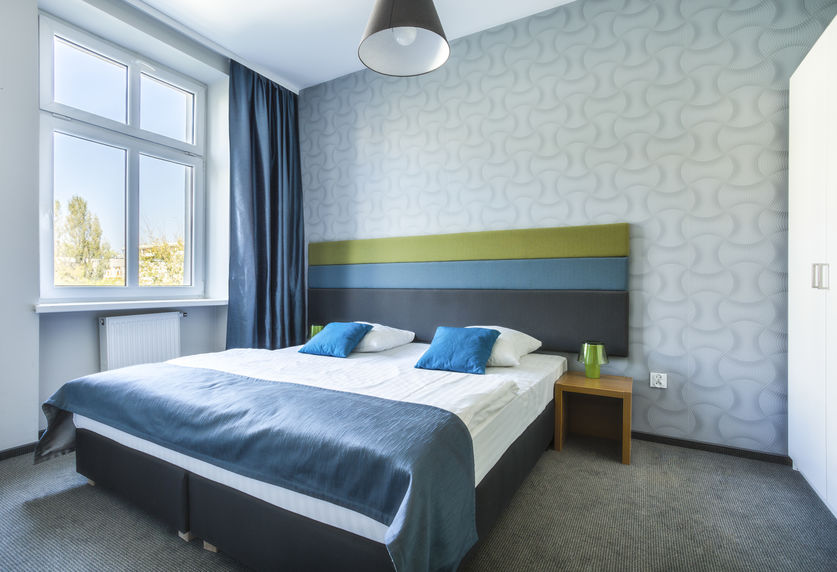 Heavy blue luxury curtains in luxurious cotton give any room an edgy look. Pair with light walls and a dark feature wall, copper accessories and you've designed an industrial look worthy of any factory converted apartment.
Regal Windows
Design your very own bedroom suite fit for a princess. Heavy curtains in beige or stone are the perfect idea to bring regality to any modern princess' bedroom. Compliment with grey walls and gold fittings.
All Greige Everything
Make an elegant statement with neutral tones. Hang your curtains and add matching wall hangings for a modern sophisticated New York apartment style design.
Floor To Ceiling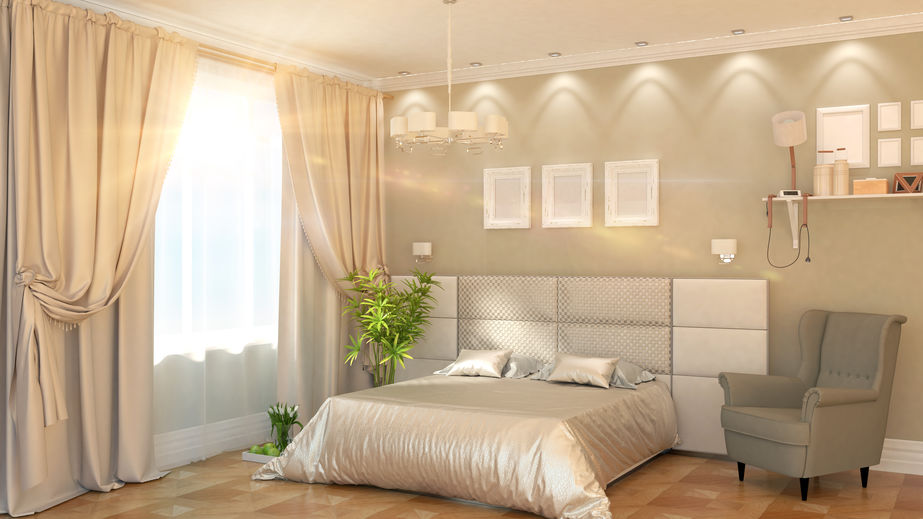 Try floor length monochrome curtains in your minimalist bedroom. It'll add depth and make the bedroom look elegant. Instead of hanging your curtain pole above the window, elevate and hang as high as you can. It'll make the ceilings seem higher and the room bigger.
Luxe Backdrop
Use white or cream Belgian linen curtains to cover a large window. It'll give an airy feel and make any bedroom feel big. Compliment with black furniture for a bedroom that makes a statement.
Dark and Brooding Navy Edge
If your design idea has you dreaming of dramatic dark walls try pairing it with a navy edged curtain. A dark room doesn't reflect much light so be sure to add some white bed linen to balance things out.
Pretty in Pink
Make a statement with a jacquard pink linen curtain at your window. Think pretty in pink and mix patterns for a classic English vibe with a modern girly twist. Accent with gold accessories and white furniture.
Breezy and Blue
For a simple contemporary bedroom, with an industrial edge. Try breezy linen curtains in dark blue accents with dark wooden furniture and a gun metal grey curtain pole.
Fresh Florals
For a bedroom idea that says I live in the French countryside. Try florals in hues of blue, match to your beds upholstering and furnish with classic french white distressed furniture.
Muted Mustard Tones
For a vibrant bedroom with a classy feel, clash colours and patterns in shades of blue and mustard. A floor length mustard curtain and a duck egg blue wall gives a classy but fun feel.
Warm and Neutral
Add warmth to your bedroom with neutral tones. Perfect for cosying up without making the room feel too dark and small. Thick curtains in neutral tones will offer your bedroom a cosy elegant style.
Easy Elegant Prints
If your walls are plain then go all out with your curtains. It's an easy way to brighten up and add life to any bedroom. Choose patterned curtains in contrasting colours at your window to bring an effortless vibrant decor.
Ticking Stripe
Give your bedroom a modern British countryside design with a ticking stripe curtain. Use a mix of soft colours to compliment this feature fabric. Complete with scatter cushions.
Bold Geometric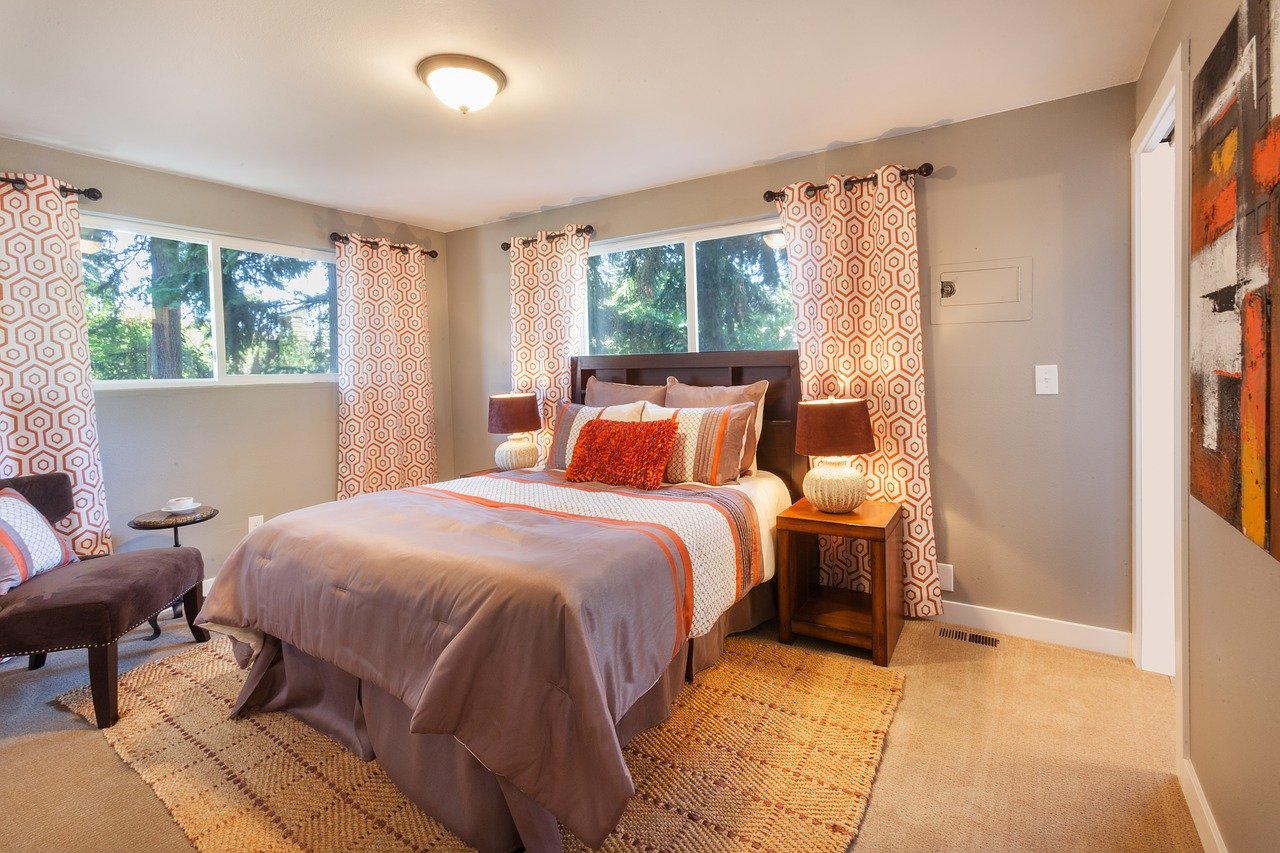 Geometric curtains definitely make a statement on their own. Either tone it down and use a complimenting colour to complete your bedroom. Or make a statement and match your bedding for a striking look.
Oversize Paisley
Paisley has become such a popular pattern, it's making a comeback and has its place in even the most modern bedrooms. Be dramatic with oversized paisley on thick heavy curtains at your window for a luxurious bedroom idea.
Vibrant Colour
For a fun and vibrant look, electric blue sheer curtains at the window and scatter cushions in bright yellow and shocking pink will add flare to match even the brightest personalities.
Hand Printed Fabric
For a rich, countryside antique feel, hand printed curtains add depth and sophistication. Add a valance to finish off your country chic design.
Go For The Gold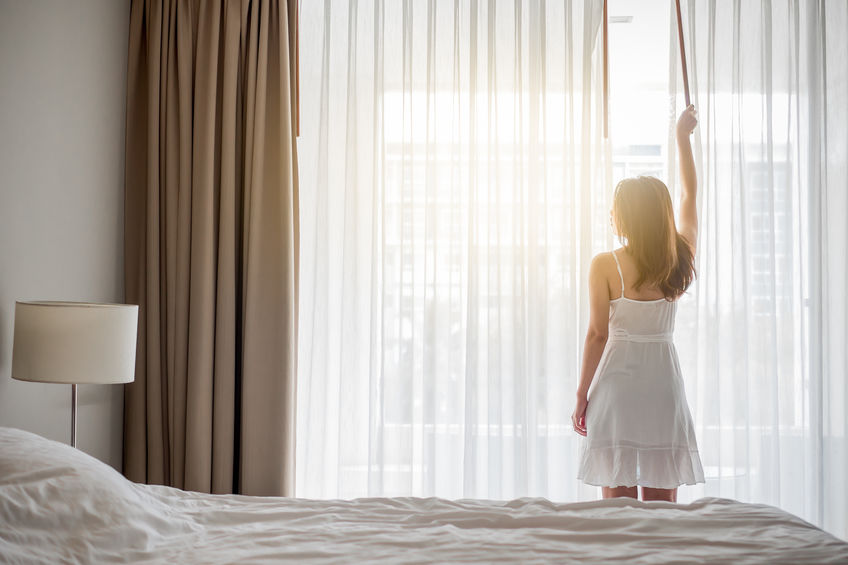 Sophisticated, elegant, classy. They're all words that will be used to describe your bedroom with the help of a floor length gold curtain. Compliment with creams and neutral tones for a luxe feel.
Luxe Cashmere
Ooh cashmere, whoever thought of cashmere curtains. How very subtly luxurious. Compliment a simple bedroom design with a neutral cashmere curtain.
Fanciful Fabric
Mix fabrics and patterns to bring a chic country feel to your design. Patterned walls and simple curtains in neutral tones easily transforms any bedroom.
Mint Silk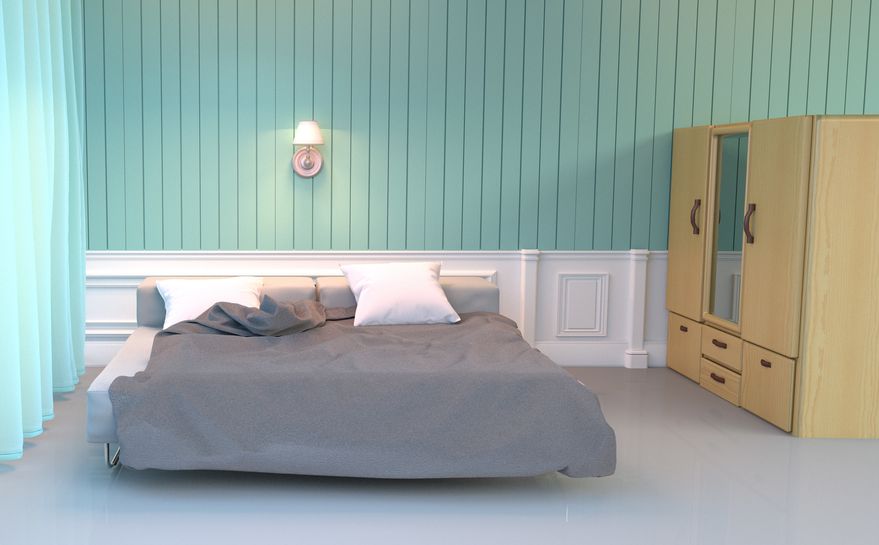 Whether you have tones of natural light or not. Silk curtains in cool mint creates a light and airy feel. Blue walls with white accents and dark furniture adds diversity.
Country Toile
Create an easy whimsical design with toile curtains. Decorate with different shades of the same colour for an effortlessly whimsical look.
Large Scale Pattern
Elevate any simple bedroom design by matching your large pattern blinds with your scatter cushions. Simple bed linen and large pictures on the walls really finish off this look.
Laid Back Linen
Create an easy Moroccan vibe with a low bed and simple design. Moroccan borders and a woven rug finish this look off with a woven beige linen curtain to tie it all in.
Block Printed Cotton
Bring the outside in with Les Indiennes cotton curtains. Use earthy tones and lots of foliage to finish this look. You'll have your very own jungle paradise.
Tied Back Tweed
For a gender neutral design with a hint of Parisian style use shades of brown. A Persian rug and finish with tweed curtains in a rich deep colour to add depth and style.
Clean And Modern
Cream or white ceiling to floor curtains modernise any bedroom. They'll make the room seem bigger no matter the size and bring a light and airy feel to any design.
Refined Elegance
Going against every interior design rule. If you have lots of natural light try dark heavy curtains with dark walls. Team it with slightly lighter shades of the same colours for your bedding. It adds drama and sophistication.
Modern Grey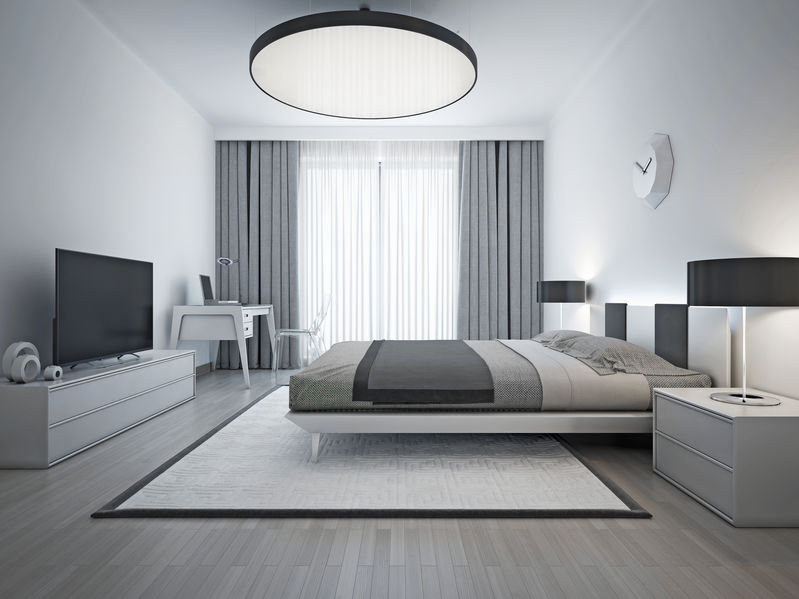 Simple, effective. If you're after a simple design that's clean and modern grey curtains are the way forward. Try a ceiling to floor length to elevate your design and make a statement.
Lavender Linen
Induce relaxation and a feeling of calm by decorating in lavender. Make a statement with lavender walls and curtains. It's bold but you'll be sleeping peacefully.
Festive Prints
For a modern approach to design that stays relevant all year round hang your curtains adorned in seasonal or festive prints. You'll have endless options that you can change all year round to brighten up your room and keep it fresh and current.
Pale Peach
Create a beach vibe paradise with white and natural wood furniture. Opt for a lighter shade and keep things tonal. Add a splash of blue for the sea and shade your windows with a light and breezy peach sheer curtain.
Crisp And White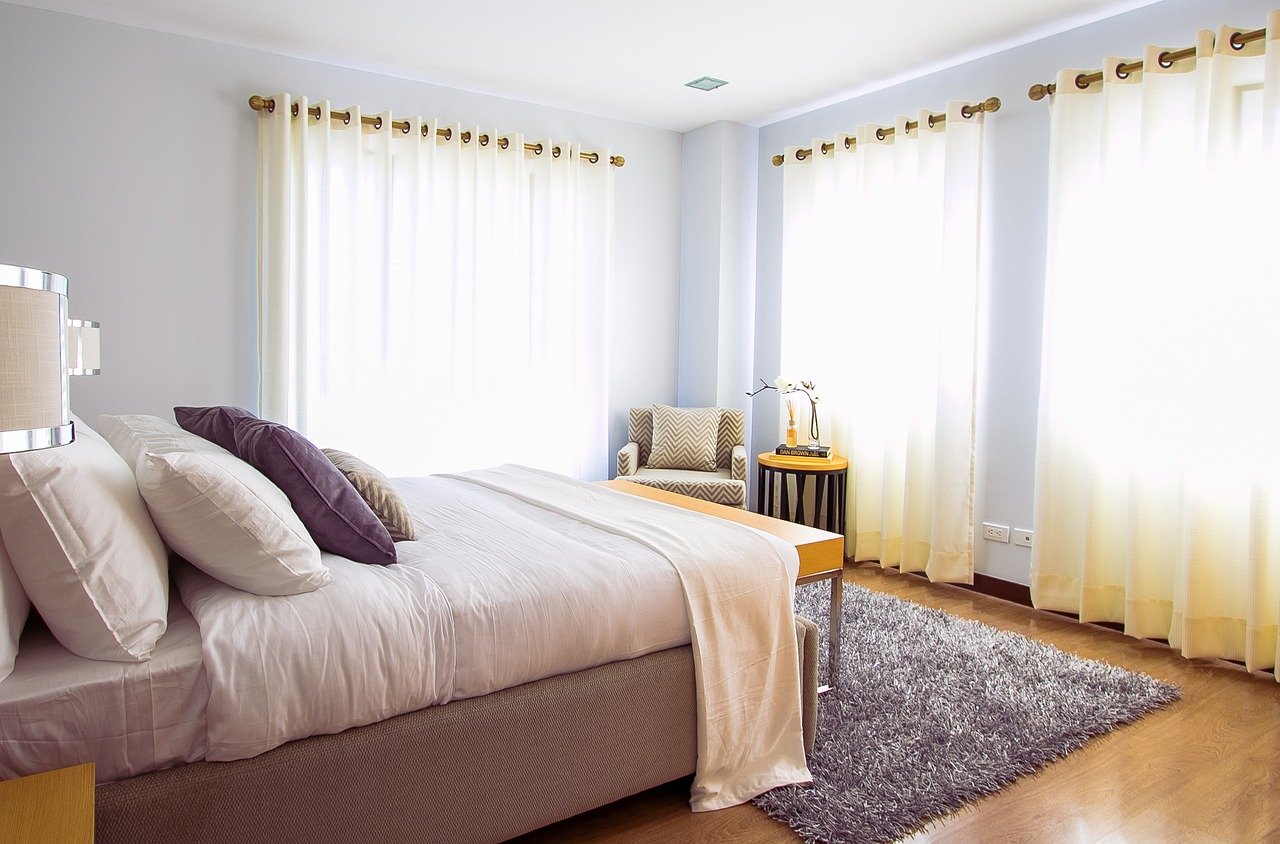 Crisp clean white curtains give a modern tranquil feel to your bedroom. Team with white bedding, keep your walls white and accessorise in bold colour. For a timeless classic look.
The way we see it, windows are one of the most important parts of any room, from guiding your feng shui to flooding your space with natural light, and how you dress them is ultimately what will tie your room together. More so than anything else. But that doesn't mean you need to buy new drapes because even the dingiest, boring, most ill-fitting curtains can benefit from a quick makeover — and the options are almost endless.
You could ruffle the bottoms for that extra bit of depth, overhaul them completely with a DIY tie-dye kit, replace the pole with a rustic rod to give them an industrial chic vibe or simply upgrade your curtain pull by replacing it with something totally unexpected like a geode tie back.
Whatever you decide to do and whichever path you decide to take, you won't believe how much your boudoir can be transformed by simply upgrading your curtains, how you hang them or what they hang from. But that's the beauty of interior design. More often than not, it's the subtle changes that can create the most incredible wow moments.